Level up your
language lab
Increase students' speaking time

Simulate organic interactions

Record students' work

Provide live feedback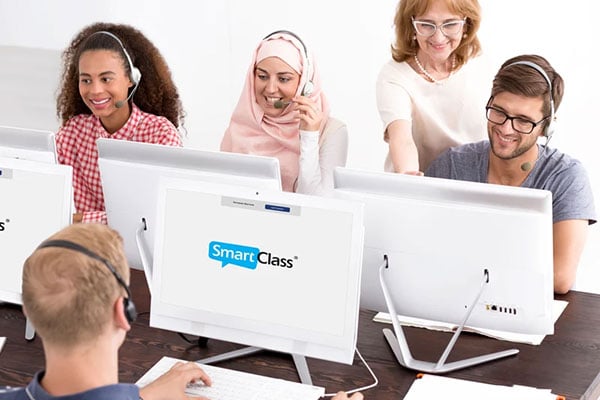 The SmartClass Language Lab offers an effective language learning experience
tailored to your school's needs.
Increase your students' overall language skills

Budget-friendly language lab

Improve students' and school test scores

Progress monitoring for administrators, teachers, and students

Set your school apart by embracing innovation

Attract and engage students to foster a lasting connection to language learning

Show parents that language learning is your core mission with tangible evidence

Empower your educators to empower their students
Real-time communication, real-time monitoring

Immerse students in the language to be learned through captivating audio and visual presentations

Provide testing scenarios and simulations for mandated language assessments

Better understand your students' learning progress, strengths, and weaknesses

Simultaneously test all students in your class

Give instant feedback during discussions and activities

Record student audio for review in class or at home
Reach fluency in the foreign language

Increased speaking practice in the classroom (and at home with the Teaching Platform)

Prepare students for real-life application of the target language

Participate in group and partner discussions

Reflect and foster student ownership in the learning process

Best test prep software for all second language assessments (Seal of Biliteracy®, Global Seal of Biliteracy®, AP® testing, ACCESS® testing, TOEFL® and more!)
"As a teacher who is always trying to bring the best learning experience to my students, SmartClass is my good companion because of its simple but powerful tools in creating rich, interesting lessons. The pairing/group activity function has provided every student chances to raise their voice and to be heard in every lesson. With SmartClass, my students are now becoming more engaged, more encouraged, more excited to speak up."
SmartClass Language Lab Features
Increase speaking practice
Teachers are able to simulate and foster organic interactions among their students by leveraging our live pairing/grouping features.

Working with a partner or group in the target language naturally increases speaking practice time for students.

You are in full control of how you want to set up your groups or pairs or you can have the system pair/group your students randomly.

Launch activities from our structured pre-loadable curricula or create your own speaking and listening-focused activities from 19 different templates.

As a teacher, you can monitor, join, and record each group or pair.

Leave written or verbal feedback for your students and monitor their growth with our integrated progress monitoring tool.
Live Monitoring and Screen Sharing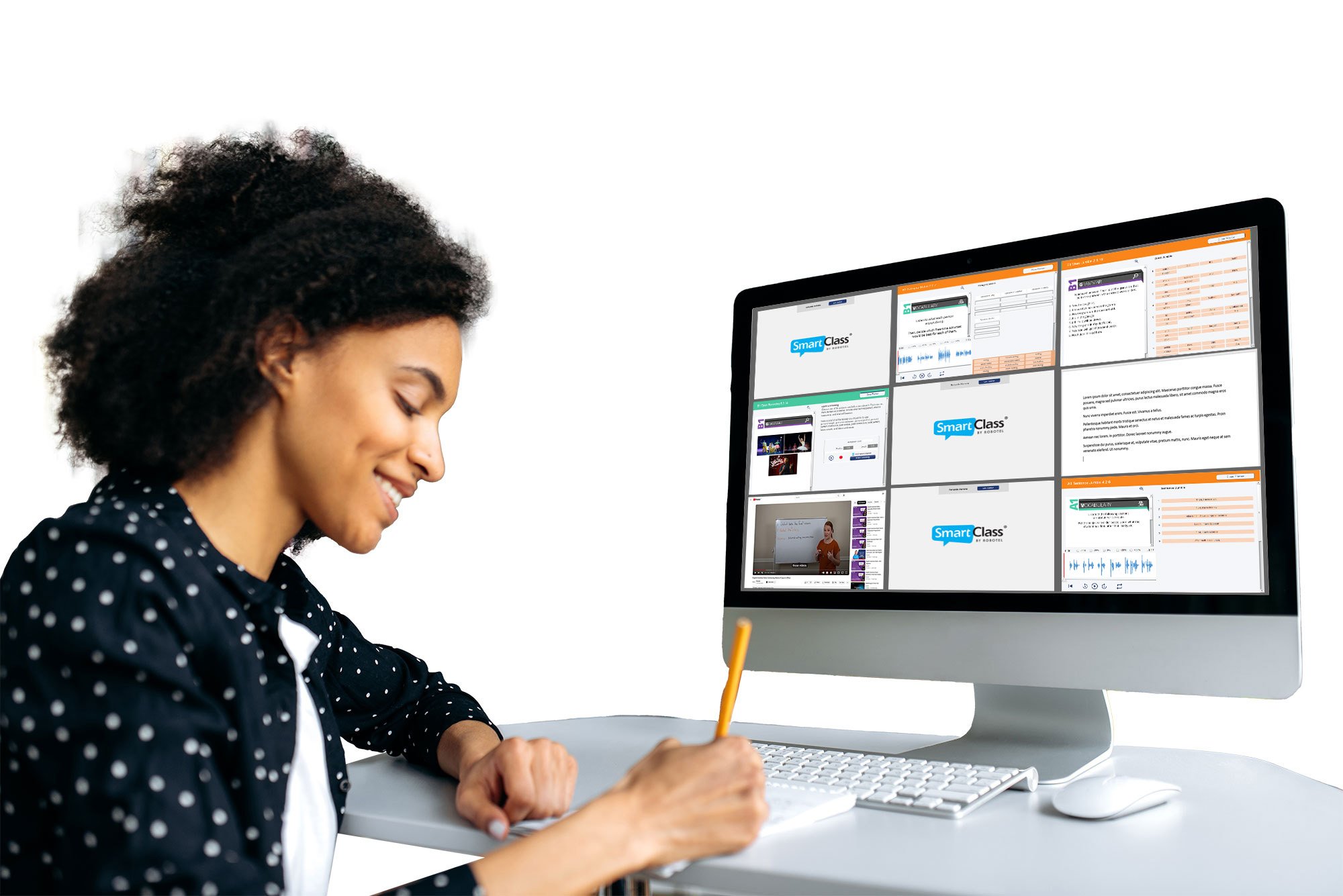 Teachers have full control
Teachers can monitor the screens of all students to ensure that they are on task.

Teachers can also work one-on-one with students who need extra support via audio intercom or chat.

Students are able to share their screen (and audio) with the teacher or the entire class for presentations.

Teachers can also share their screen on all student screens to model an activity, share an image or chart, or even video and audio files they control.
Recording & Testing Students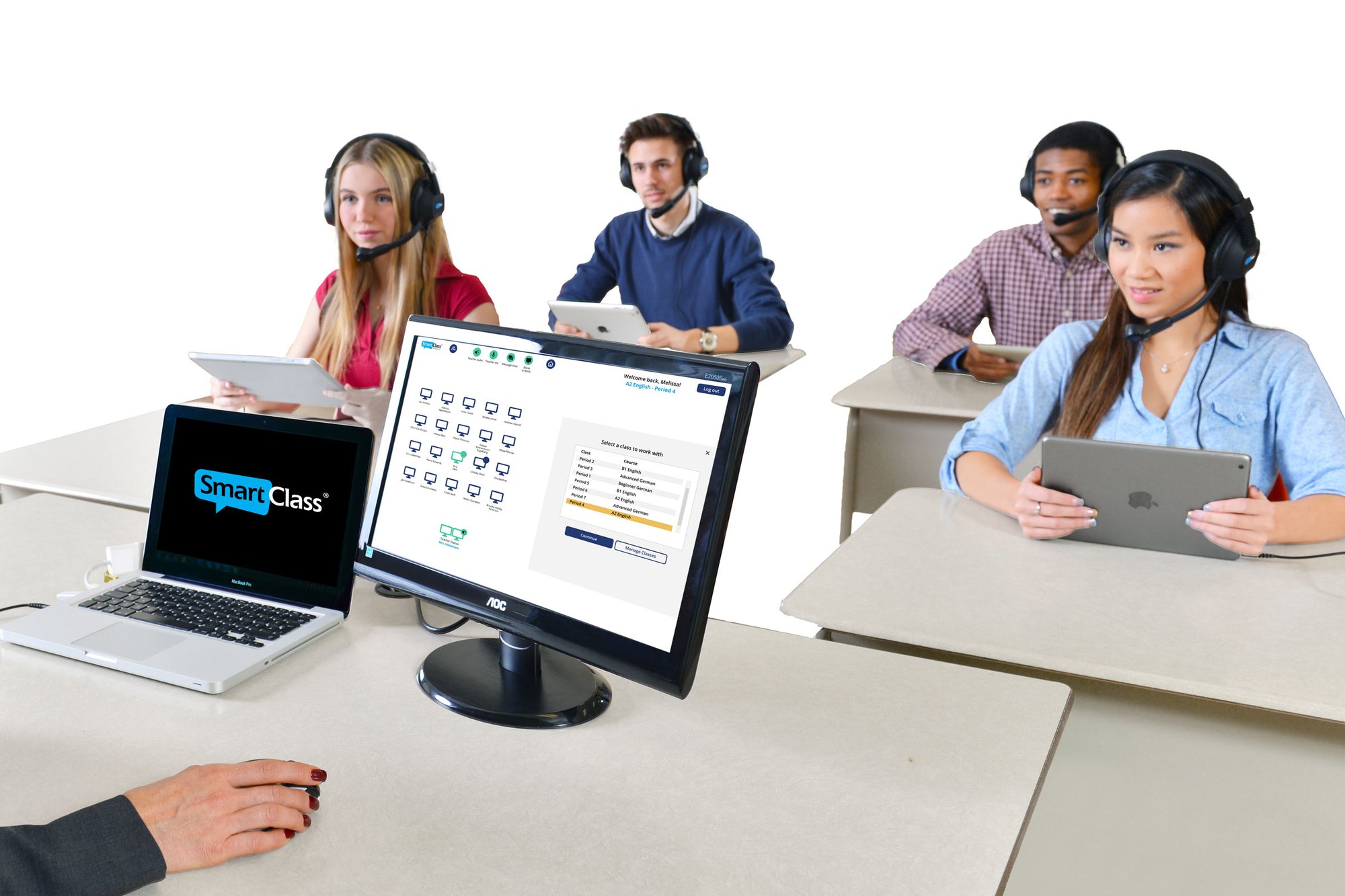 Simultaneous recording and testing
Turn your class into live testing mode and test all of your students at the same time.

Simulate the speaking and listening portions of live exams such as AP® testing for World Languages, TOEFL, IELTS, and more.

Use any of the activities from our spiraling curricula or easily create your own mock exam questions. Our activity template includes all major exam templates such as multiple choice, open text, question and answer, fill-in-the-blank, and more!

Listen in and record your students to you can give detailed feedback later and allow students to relisten to their recordings for self-reflection to deepen learning.

Access all grades in our integrated grade book and monitor student growth within our progress report. (Students and admins have access to their own reports as well.)
Fully integrated with our teaching platform
Keep learning fun and engaging for your students by providing them opportunities to speak more in class with any of these activity templates.

SmartClass offers teachers a diverse range of 19 different activity templates that are designed to make learning fun and engaging for your students.

These activity templates go beyond the limitations of traditional online platforms, which often only offer fill-in-the-blank or multiple-choice activities.

With SmartClass, you can provide your students with a variety of interactive and dynamic activities that will encourage them to speak more in class.

These templates are specifically designed to cater to all learners at all levels, ensuring that every student can actively participate and contribute to the learning process.
Pre-loadable language course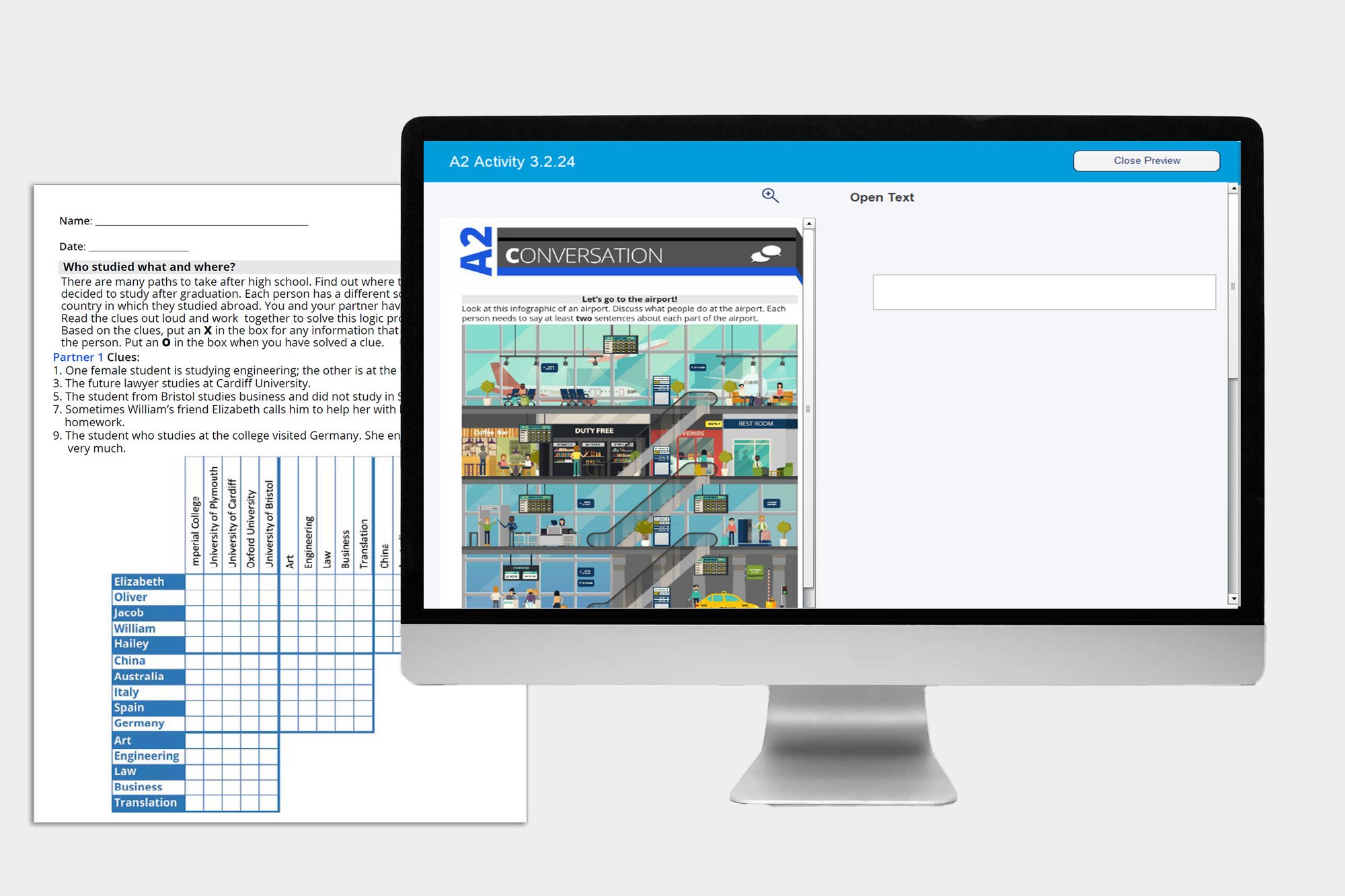 Save time with integrated curricula
Discover a world of endless learning possibilities with our collection of over 5,800 captivating digital activities.
Immerse your students in a multilingual experience as our activities are available in English, German, Spanish, and Arabic.
Whether you're looking to improve your students' listening or speaking skills or focus on providing engaging practice that will help students master these essential language abilities.
Plus, with 50% of our activities being auto graded, you can receive instant feedback and track students' progress effortlessly.
Unlock the power of class communication with our wide range of interactive exercises.
Quality audio intercom and headsets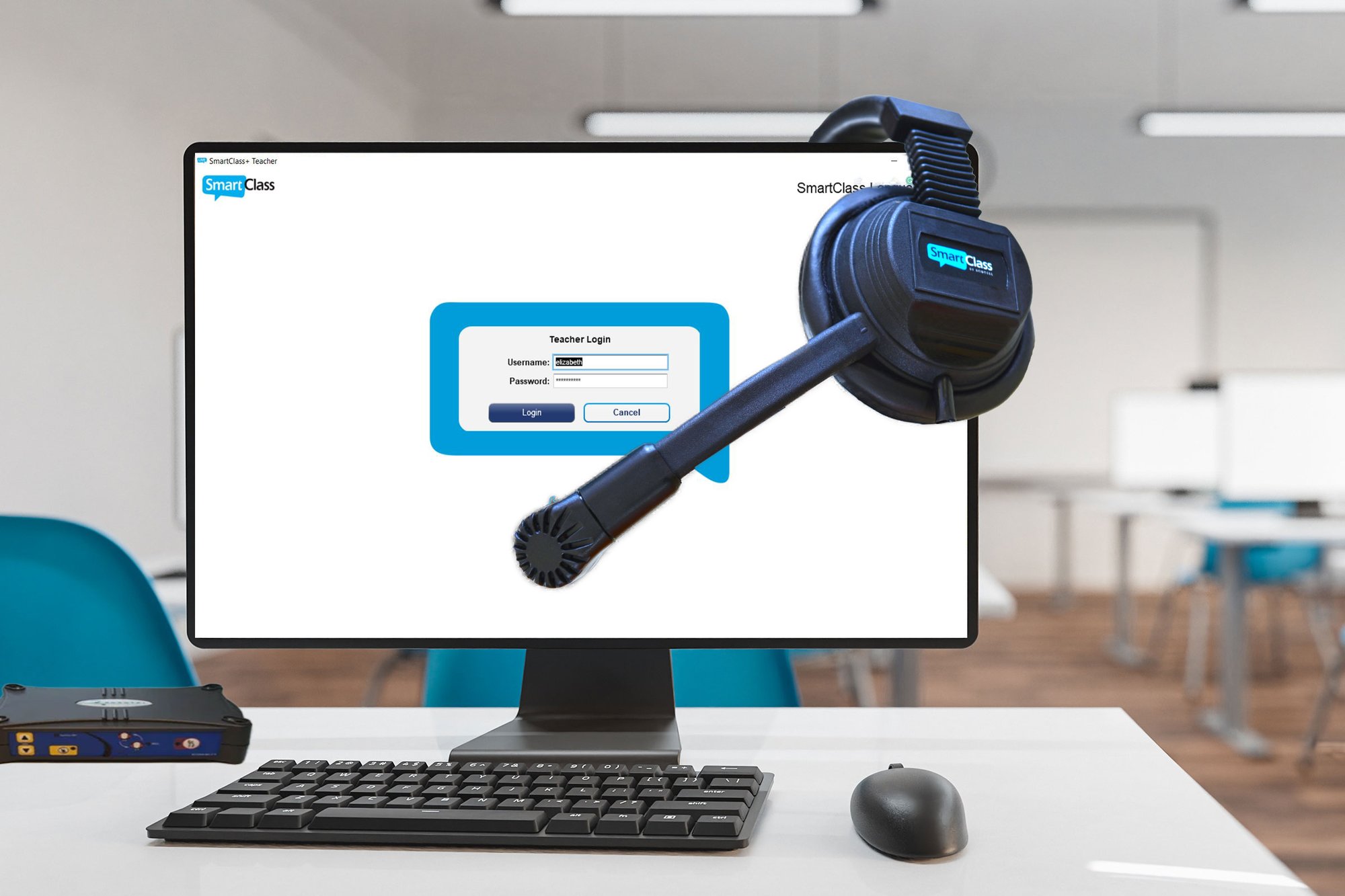 Crystal clear sound quality
SmartClass can be configured for 100% software operation over wired or Wi-Fi networks to ensure unequaled sound quality.

We also have a HiFi hardware-based audio matrix intercom option that delivers crystal clear audio communications in fixed lab environments.

You won't miss a word of your students' recordings and students will hear each other better than if they were sitting next to each other. It is of paramount importance to use quality headsets in a noisy environment.

Noise-canceling over-the-ear headphones with built-in microphones ensure that students' audio is clear and their pronunciation feedback accurate.
Turn your computer lab into an immersive

language learning

space.
Get in touch. We'd love to talk!
With SmartClass, you will transform your language teaching.
Allow us the opportunity to show you how!